In recent times, rain and flash floods have caused havoc on many golf courses across NSW. Those courses with Cowra Quartz Premium Bunker Sand – like Cromer Golf Club (below) have held their own.
Thanks to the unique angular particle shape and distribution, its superior resistance to scouring and wash out easily outperformed other sands in the marketplace. If you're looking for a product that offers stability, drastically decreases maintenance costs and looks good all at the same time, then Cowra Quartz 2mm Bunker Sand is the solution.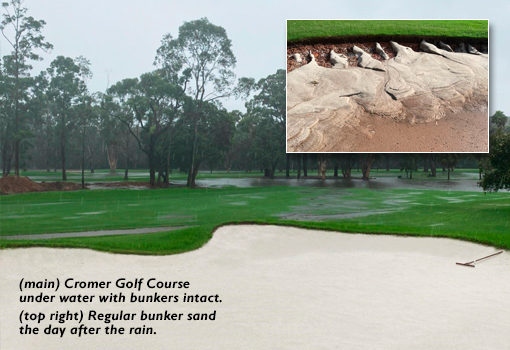 Direct from our Cowra Quarry, this premium-quality quartz sand has officially arrived on the NSW golf scene. First installed at Elanora Country Club two year's ago, the brilliant white sand has received excellent feedback – from golfers and greenkeepers. Quartz sand is currently being trialled at Royal Sydney Golf Club too!
THE BENEFITS OF QUARTZ SAND:
Available in Brilliant White and Traditional Gold